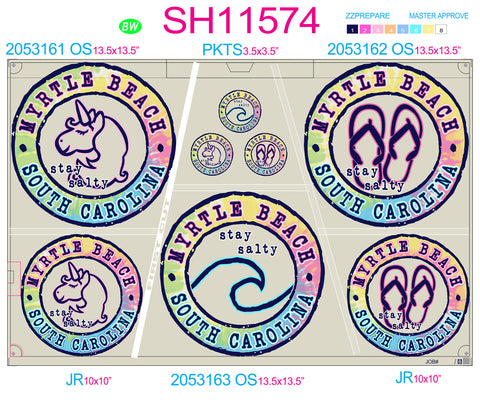 Home
/
SH11574 - Tie-Dye Fill Circular Sheet - Complete Set
SH11574 - Tie-Dye Fill Circular Sheet - Complete Set
Please call us at 800-771-7786 for a custom design.
Get the Tie-Dye Fill Circular Sheet Complete Set, and set your store apart from the rest.
This is an excellent souvenir collection for adults, teenagers, and children. These quality heat transfers can be applied to Tie-Dye, lights, darks, and mid-tone colored apparel including t-shirts, tank tops, sweaters and hoodies.
Buy The Complete Set!  Includes three Oversized, Junior, and Pocket-sized heat transfers.
Recommended Application:
Should only be applied to 100% cotton or up to 50% cotton/50% polyester blended apparel including ring spun and pre-shrunk cotton, and sport shirts.
Order Now: To check product availability and order, please call: +1 (954) 929-6622 or 1 (800)-771-7786